Hey! We are happy you have decided to train with us. If you're reading this then you probably have a lot of questions and are wondering what to expect when joining Breakaway Running's free marathon training group or other training programs that we offer, such as the 5k, 10k and half marathon. Hopefully, we've done a good job at answering your questions below. Remember, there are no dumb questions and someone else probably has the same concern that you have. If you have additional questions you can always reach out to us at one of our store's or on our Facebook group Breakaway Marathon Training Group.
Who is Breakaway Running?
Here is just a little bit about Breakaway Running if you are new to us or haven't spent that much time around the stores or at our runs. Breakaway is a family owned business that has been fortunate enough to support Memphis running since 1981. Everyone that works at the store is a runner. Not only are they runners but they want to help others with their running. Whether you are just starting out and have not been fit for shoes yet or are wanting to get ready for an upcoming run, then we can help you out. Running shoes are made according to foot type. We can do a foot and gait analysis and help you figure out what shoe will work best for you. We also offer several free group runs and events throughout the week.
So what to expect.
Understanding The Training Plans
The training plans we have put together for the 10k, half-marathon, and full marathon are mileage based. Be prepared to increase your mileage, fall back, then increase again. This will allow your body to recover while maintaining fitness. The main goal is to get you to the starting line healthy. These training plans are centered around the St. Jude Memphis Marathon Weekend; however, the plan can be modified to get your ready for another race.
As you'll see in the training plans below, we have organized the training runs in a calendar format including a cross training day, daily recommended mileage, speed training (geared towards advanced runners), rest day's, and Saturday morning "long runs". We offer several group runs throughout the week, including a long run on Saturday morning's that switches start times and locations to accommodate the heat, long mileage, and large amount of runners participating from various locations. MT is Midtown and GT is Germantown. This plan can be modified to fit your schedule. The main things to keep in mind is to stay consistent with your training, follow the weekly mileage, and take rest days when instructed.
Note: The 5k training plan is time-based. This means you slowly increase mileage as the training goes on. You will not continuously increase mileage every week. Training is a balance of rest and stress. The first 5k training group starts on  See plan for more details.
Stick to a plan
Even if you are not following our plan, please come out and join us for runs. You do not have to join us every Saturday. It is so much easier running with people. No matter what plan you have, find a good one and stick to it. Know that there are no shortcuts in running, no cramming in your mileage the last three weeks before a marathon, and that you get out of it what you put into it.
What does all this mean? You cannot expect to reach your goal (finishing, getting a PR, or qualifying for the Boston Marathon) if you do not train properly. It does not have to be complicated but consistency is rewarded.
Before the Run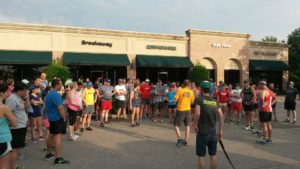 We will have Breakaway staff and volunteers at the store at least 30 minutes before the group run starts. At the Midtown store there are plenty of places to park. The parking garage behind us is free until 6pm. At the Germantown store there is a large parking lot in front and behind the store. We have two bathrooms inside the midtown store and one outside. The Germantown store only has one bathroom – please plan accordingly (especially for "pre-run code browns" as noted by Charles Mitchell). You will be able to purchase items in the store before and after the run.
Before participating in our training, you will need to complete a waiver. We will also have these available at the group runs. We encourage you to print and complete the form prior to the run.
Before we begin the run, we will review the course and make announcements. We do try to start the run as close to 7 AM (or 6 AM later in training) so please prepare to get there at least 10 minutes prior to the run.
Many of you are wondering what to eat and drink before a run. We will provide informational clinics throughout the training to help you figure out what nutrition is best for YOU. The biggest tip we can provide is for you to test what works best for you – the earlier, the better.

On the run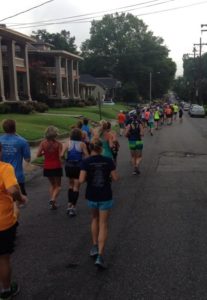 The runs will begin at 7am for the first part of the training. As the runs get longer we will start at 6am. We know it sounds rough getting up before 6am on Saturday, but it will be a big relief getting your long run in early (especially with this Memphis heat). Other things to keep in mind when running with Breakaway:
We run facing traffic.

Do not wear headphones as this is a safety hazard for not only you, but also others around you.

Do not wear black/dark colors when running in the dark (Run to be seen)

Wear sunscreen… you'll thank us later when you see those who do not.
The Courses/Directions
We will have courses made for each Saturday morning long run and posted to the Facebook group before the runs. The courses are out and back, meaning we start and end at the store. We put out directional "Breakaway Running" signs at every turn. While we feel we are great at doing this please do not completely rely on the signs. LOOK AT THE COURSES ONLINE and become familiar with where you are running!
If you do not feel you are able to complete the full course as outlined in your training plan/course map, then we encourage you to make your own course adjustments based on your preferences and fitness level.

If you decide to cut your run back, then please let someone know.

If you need a ride back and are able to make it to the next aid station, then let one of our volunteers/staff know and we can try to arrange transportation for you.
Water Stops/Course Aid
There will also be water out the course. Usually, we try to place water stops at every 2 miles; however, this is greatly impacted by the amount of staff and volunteers we have available that day. Although there is water on the course we still suggest bringing a handheld water bottle or your hydration storage. This will make sure you have enough water and cut down on the amount of paper cups and trash we create. We do not provide additional nutrition supplements, such as energy gels, bars, Gatorade, etc. You are responsible for your own nutrition and hydration on the course.
The Pace
The number one question we get as it relates to the Breakaway marathon training program is, "what pace do I need to run in order to participate?" or "I am not a fast runner, will I be last?" To answer this question, no matter how you ask it… there is no set or mandatory pace in order to participate. You can expect walkers, joggers, runners, and crazy fast runners. We have the luxury of having a large group, which comes with a lot of diversity and paces. But, most importantly, we encourage you to run Your run. We also encourage you to meet other runners, find others in your comfort zone so that you are not alone and are challenged.  As we get into the longer runs, we hope to have volunteer pacers who can serve as a guiding point on your goal finish time.
IMPORTANT: Our training runs are not races and we don't encourage you to run your race goal pace every run.  If you are not able to talk and have a conversation, then most likely you are running too fast! If you need to walk, then walk. Listen to your body and run your run. If would like additional support on how fast you should be running and when, then you can reach out to one of our coaches available at Breakaway.
After the run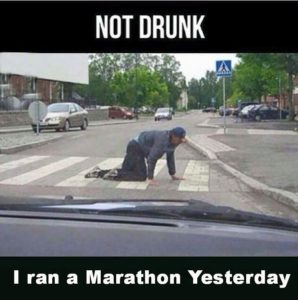 We will start and finish at the designated running store listed in the training plan. We will have water available and, in most cases, the stores will be open.
Please reach out to us if you have questions or would like to discuss your training plan. We also encourage you to join the Breakaway Marathon Training Program facebook group where fellow runners of all fitness levels discuss common marathon training questions.
Join Marathon Training Group Facebook Page
Join the Breakaway Running for a Cause Heroes Fundraising Team