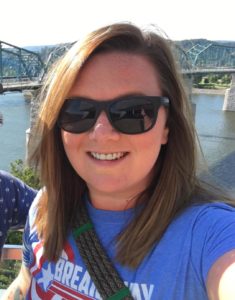 Hi, I'm Jackie Welsh. I've always been competitive and have wanted to be an athlete. I played softball for a few years, both for a recreational league and in neighborhood games. I had a brief stint as a ninja after winning a drawing for free karate lessons, but that quickly ended when I realized training involved some giant man yelling at you as other kids came at you kicking and swinging. (Yikes.) However, before the beginning of 2016, if you saw me running it was because something was chasing me or someone was giving away free cheese. (Yum.)
After years of being overweight and battling depression, I made a choice. January 4, 2016 was the first day I laced up a pair of genuine running shoes (acquired from Breakaway!) and I told myself I was going to become a runner and an athlete or die trying.
It hasn't been an easy journey, but it HAS been an incredible one.
In the past 7 months, I have completed seven 5ks, improved my original pace by 2+ minutes, improved my mental outlook, and lost 35 pounds (and still going!)
Running is the best medicine I have ever tried for battling depression, and I am a HUGE advocate for ending the stigma attached to mental illness.
I am currently training for my first 10k in December as part of the St. Jude marathon weekend— as well as fitting into a wedding dress for my October nuptials to the best fiancée and running partner, Katie!
I started working at Breakaway in May 2016 and am so incredibly thankful for my new family. They are some of the most encouraging and supportive people I've ever had the pleasure of knowing. When you still run a 13-minute mile while working with some of the fastest runners in Memphis (including an ACTUAL Olympic trial qualifier, Lauren Paquette) it can be extremely intimidating, but I am so lucky and proud to be a part of this incredible team that makes me feel like their equal.
My advice for anyone that wants to start running but is scared or feels like their body can't do it is this:
Your mind will give out far sooner than your legs will. Just get out there and remember that no matter if it's 5 minutes, 25 minutes or somewhere in between, a mile is still a mile, and you're lapping everyone on the couch.