As many of you have heard, the St. Jude Memphis Marathon has changed its courses this year. What better way to give you the scoop on the ups and downs than to hear from a previous St. Jude Memphis winner, a St. Jude marathon race pacer, and Breakaway Running race team member – Angie Zinkus. This Memphis-known runner has been so kind as to share an overview and candid review of her experience running the new St. Jude Memphis marathon course.
And…. here it is!
St. Jude Memphis Marathon Course Review by Angie Zinkus
When I saw the new St. Jude Marathon course posted on the Breakaway Running Facebook page my first thought was "oh man look at all those turns!" but my curiosity got the better of me so I set out to see how this course differed from the old course.   I must preface my review of this course by saying that I was running during the day meaning I had to deal with a lot of traffic (Jennie Vee Silk will be happy to know I looked both ways before crossing streets!) and I had to alter my route slightly as I could not go into AutoZone park or through St. Jude. I also got lost multiple times, but that is not hard for me to do on any course! Now let's start from the beginning….
Miles 1 through 8….
are basically the same as the old course with the exception that the start is on 2nd Street (not 4th Street) and takes you down Beale Street on mile 1. Also different is the fact you go down 2nd Street to East Carolina thus giving you a view of the Happy Mexican restaurant. Thank the Lord they did not eliminate that wonderful downhill on Riverside Drive (I swear I would cry like a baby if the course went up this hill) which then gets you ready for the steep Beale Street hill and quick left on Front Street.
The course continues through St Jude which is not only an amazing feeling but makes you realize why you are running 26.2 miles! There is not much change in the course until after mile 8 when you take a quick right on McLean and then a left on Poplar. I was able to pick up my speed on the Poplar downhill to Cooper which is helpful to let your legs prepare for the gradual uphill on Madison.
Mile 11 – A Stop At Breakaway Running
Loved, loved, loved going down Madison! Why you ask? Because you go right past Breakaway running and all the other great shops and restaurants (Memphis Pizza Cafe, Huey's etc). I can see this area being as invigorating as going down Beale Street which is MUCH needed at mile 11.
The turn on Cleveland brought about a nice flat road, but I am just hoping the construction is done for runners by race day! From here the flatness continues as you pass by Rhodes College to Jackson and through a little neighborhood. The turns were not too bad, but I will admit I got lost here. A brief run through Overton Park brings you to East Parkway. The weird part here was going the opposite direction from the old course. Still you are dealing with pretty flat road that eventually leads you to a slight downhill and onto Southern.
Miles 18 through 22…
Southern is not completely flat, but the rolling hills were not horrible. The next section when you turn down S Barksdale got a little confusing (ok I got lost again) as you have several turns that eventually takes you briefly on Central, down S Belvedere, and onto Peabody. I almost cried when I saw another downhill on Peabody (versus uphill on the old course). Don't get me wrong, there still are some gradual uphills on Peabody, but they are tolerable even on tired legs.
Miles 22 and 23…
The next stretch down MLK Avenue is the same but I think will be mentally better for some versus the old course because you are at miles 22 and 23. True confession: this was always the most difficult part for me mentally on the old course as you were only at miles 14 and 15 and would get quite lonely as the fans dwindled.
The Finish…
Finishing up the course after a right onto Danny Thomas proved to be a challenge with all of the turns onto Adams, Manassas, and Jefferson but I was dealing with lots of traffic which will not be a problem for runners on race day. Once you get through those turns you cross over Beale again which is a good boost to give that extra kick to finish strong at AutoZone Park.
Now, I am by no means an expert on marathon courses (far from it), but I do believe this course is faster than the old course. There are some uphills, but I really think the downhills are more runner friendly. It is also my hope that the change in the course will bring more spectators out to cheer runners on. Yes, it is a bummer that you only run through St. Jude once but coming up Danny Thomas does give you a great view of the facility and once again reminds you what this race is all about. Good luck to everyone running!
---
New St. Jude Memphis Full Marathon Course Map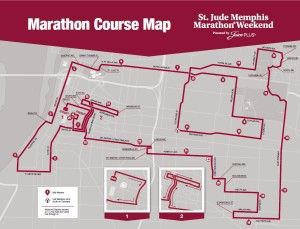 New St. Jude Memphis Half Marathon Course Map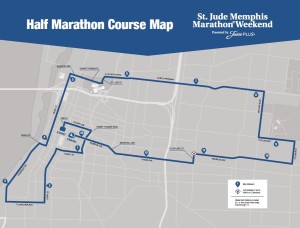 Get more information on the new St. Jude Memphis full and half marathon courses on the St. Jude Memphis Marathon website.