Guest Post by Julianne Tutko
From the time I went out for the track team in eighth grade and failed abysmally, I have wanted to run. Not just run, but enjoy running. And, like many others, I had "that morning" when I woke up and said "I'm going to start running today!" So I laced up whatever shoes were on sale or 'looked cute', and went out and tortured myself straight into an injury and the conclusion that "I just can't run." And that made me sad.
The 2000 movie "What Women Want" had a scene that said everything I always wanted to feel about running. And remember the fake Nike ad they created for that movie? That was it! That's what I always wanted to feel:
You don't stand in front of a mirror before a run and wonder what the road will think of your outfit.
You don't have to listen to its jokes and pretend they're funny.
lt would not be easier to run if you dressed sexier.
The road doesn't notice if you're not wearing lipstick.
lt does not care how old you are.
You do not feel uncomfortable because you make more money than the road.
And you can call on the road whenever you feel like it, whether it's been a day or even a couple of hours since your last date.
The only thing the road cares about is that you pay it a visit once in a while.
I just didn't know how to start running without finishing running that very same day, which I continued to try over and over. But I gave up on ever feeling that way about running – until 2011.
The Beginning…
I was forty-six years old, overweight, and after nearly three decades of living a largely sedentary life, my only claim to overall good health was good genes. It was during a staff meeting at the Agricenter International that the Marketing and Sales Director reported on upcoming events and mentioned "The Memphis Runner's Track Club's Women's Run/Walk Expo" and I was curious. I got the information, and before I had time to change my mind I registered as a Beginning Runner. I was, if only $35 worth, committed. Then I started telling everyone I knew what I was doing so I couldn't back out.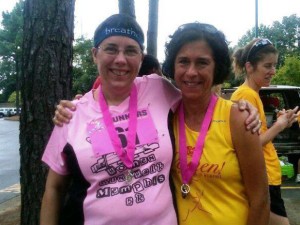 I showed up that first Monday night, scared out of my mind, and with one and only one goal in mind: Don't pass out (it was crazy hot!) and don't look stupid. Head Coach Marian Castroverde bounced to the front of the crowd of what felt like a thousand other women, full of motivation and confidence in our ability to do this. To become runners. To RUN a 5K, which on that night was inconceivable. But not that night. That night all we had to do was walk for five minutes, then run one minute/walk two minutes for twenty minutes, and walk five more minutes. I could do that!
I'm A Runner!
And I did that! I did it with several hundred other women and the dozens of volunteer coaches encouraging us every step along the way. And I didn't pass out and I didn't look stupid. At least it didn't feel like I did because I wasn't the only one out there hoping not to pass out or feel stupid. After that first run, Coach Marian gathered us all together, had us give ourselves a pat on the back and round of applause, and decreed us all to be "Runners!" She went over the importance of following the training plan, which I did to the letter because I was scared not to. I'd messed this up too many times before. For the next eight weeks, we showed up on Monday nights, all several hundred of us and our Coaches. The run intervals got longer while the walk intervals got shorter and, eventually I began actually feeling like the "Runner" Marian and the Coaches kept telling us we were.
Building My Support Team
One other person I couldn't have done this without is my husband Rich. Rich had run cross country in high school and continued running throughout college and his twenty-year military career. After his retirement, and in part because I wasn't active, his running slacked off. Another reason I decided to do the WRWM training program was because I knew it would get him back into something he had always enjoyed. I knew he would do those "through the week" training runs with me, which he did.
Graduation Day
Then it was there: Graduation 5K Day!
I was a nervous wreck. Rich and I got to the race venue well over an hour early, a practice we still keep, and he tried his best to calm my nerves until it was Start Time. I lined up with what felt like thousands of other women waiting to go. Lane Purser's patented "Goooood Morning Runneerrrrrs!!" came wafting through the air, followed by nothing I remember until "Runners, to your mark, get set…" and the sound of that siren and we were off.
I'd set a goal of finishing in 45 minutes and was shocked when I saw the time on the clock at the Finish Line was well under that number. As I ran under the red, white, and blue MRTC arch I burst into (unexpected) tears and while there were so many people there congratulating me, I needed a minute alone to soak in the fact that I had Run A 5K! Me. The person who had failed at trying to run time and time again. I had run a 5K. I truly was A Runner!
Doing It For Me and Others
Since 2012 Rich and I have both volunteered as Coaches with WRWM, Rich with the Intermediate 1 and me with the Beginners, and there are no words for that experience! A couple years ago at the expo a lady walked up to the group of Beginners Coaches and as she was asking questions about running shoes and clothes she quietly made the comment "This is the first time in my life I've done something just for me". I've never forgotten the look on her face as she spoke those words. That is such a big part of what the WRWM program is about. Giving women the opportunity to make walking or running that something just for them.
Still Running Strong
A year to the day after that Graduation 5K I finished my first half marathon, something that had never crossed my mind! In 2013 Rich and I trained for the Memphis St. Jude Marathon, and while that race didn't take place we completed the training! That in and of itself was something I'd never seen myself doing, and we're doing it again for this year's Marathon. Another result of having taken part in WRWM is becoming Race Director of the Bad Dog 5K that benefits Ronald McDonald House of Memphis, a home-away-from-home for families of children being treated at St. Jude. If I hadn't become a runner, the thought of putting together a 5K would never have occurred to me.
I could spend another 10,000 words going on about what running has done for and brought into my life. Memphis' running community is just that: A community. Whether it's recognizing familiar faces along trails and race courses and crossing Finish Lines; walking into a Breakaway store and being greeted with "Tutkos!!"; the encouraging comments on Facebook posts regardless if the run is good or bad; what we have here is special.
And for me it all started with MRTC's Women Run/Walk Memphis running training program. A program I will support as long as it's here!
Register for the Women Run Walk Memphis Program
Register