Breakaway Running (Midtown) Store Information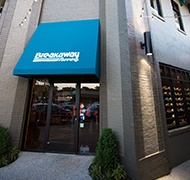 Our midtown Breakaway Running store is in the heart of the rejuvenated Overton Square in Memphis, Tennessee. We moved to our new midtown home in the fall of 2013 and the mixture of fun, food and family activities found in this atmosphere suits our combined personalities perfectly.
New to the area and our store? You can find us off the Madison strip between our neighbors Golden India (yum) and Crazy Beautiful and below Cardio Barre.
Parking: Parking in Overton Square's Public Parking Garage is free before 6:00 p.m. If you plan to visit Breakaway after 6:00 p.m. you can either park in the free public parking lots found in the Overton Square area or you can pay the parking garage's standard fee of $3 for the entire evening.
Location
2109 Madison Avenue
Memphis, TN 38104
(901) 722-8797
Store Hours
Monday – Friday: 10:00 a.m. – 6:00 p.m.
Saturday: 10:00 a.m. – 5:00 p.m.
Sunday: 1:00 p.m. – 5:00 p.m.
Map and Directions