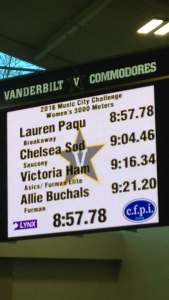 Congratulations to Lauren Paquette, a member of the Breakaway Running Race team, for winning the 3000m race at Vanderbilt's Music City Challenge on February 13, 2016. Lauren won with an incredible time of 8:57. This was a personal best for Lauren, beating her own record at Vanderbilt University by 16 seconds. This outstanding performance also qualifies Lauren for the World Indoor Championship standard.
"I am very happy to have finally run a World Indoor Champion Standard. I've never done that so, this is a breakthrough moment for me."
This is the 5th fastest time by a women in 2016 for the 3000m.
Lauren said her support on the course made all the difference. "It's hard because I went through the first mile at 4:46 and knew that the rest of the race was going to be hard. I had my husband Max Paquette, as well as training partners Adam Sommers and Mallory Bader cheering for me at every corner."
What's Next For Lauren Paquette:
As far as next steps, Lauren is focusing on her training and is dedicated to the process. "I have some big decisions to make soon."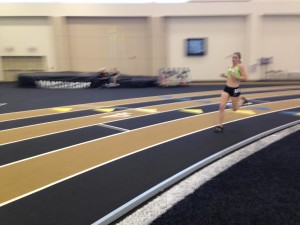 And we can't wait to here those plans! Stay tuned… and congrats again Lauren.