Brrr…. it's getting colder and colder outside and when the temperatures begin to drop, the layers in running gear tend to increase. But be careful in how much you layer up because you can risk "overheating."
The Wrong Way to Dress For Running in Cold Weather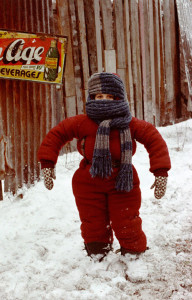 I can attest to both overdressing and overheating. I hate being cold. In all honesty, I despise it. And when I first joined the Breakaway Running groups in the winter of 2010, I would come to the group runs layered in several cotton shirts, put on at least two pairs of socks and would wear some tights over another pair of tights UNDER sweat pants. Let's not forget the hats, gloves, and a thick jacket…or two. Picture Randy in the snowsuit from A Christmas Story. When I say I don't like to be cold…. I DO NOT like to be cold.
All that being said, I would come back from a 3-mile run overheated in 40-degree weather feeling sick, flushed, sweating profusely and as red as a strawberry. I just didn't know how to dress otherwise. That was until Bryan and Barry Roberson educated me.
The Right Way to Dress For Running In Cold Weather
An easy to remember rule of thumb to help you dress for cooler temperatures is the "20 Degree Rule." The 20-degree rule for runners means you should dress as if the temperature is 20 degrees warmer than the temperature outside at the time of your run or workout. That's because your body produces internal heat and tries to naturally cool itself off by sweating. And as you begin activities that increase your heart rate and as you lose fluids while working out, then your body becomes more prone to overheating itself.
Yes, you'll most likely be cold in the beginning of your run, but you should warm up within a few minutes of your workout.
Other tips for dressing and being prepared for your colder runs include:
Layering up in technical apparel, to wick away sweat, rain and snow acquired during your workout. This includes wearing synthetic material, such as polyester or natural materials like bamboo that wick away moisture quicker than cotton material. The theories behind wicking material are to keep you cooler
Dressing to be seen and to see. Here are nine tips for running at night.
Protecting Your Skin. Despite the cooler temperatures, you should still be aware of the sun, the wind, and frost-bite

 when outdoors during the winter. Some tips for protecting your skin include covering exposed skin by wearing sunglasses, body glide, vaseline, protective headwear, and gloves. It is also helpful to run away from the wind and around high rises to block the sun and wind.

Running with a buddy or with a group. One way to keep your mind off of the cooler temperatures and to help keep your accountable for continuing your workouts during the winter is to run with someone. Breakaway Running offers several free group runs in Memphis and Germantown throughout the week. There are several pace

options and there is no obligation to join. Plus, you get ice cold incentives waiting for you after the run.

Running indoors. The easiest way to stay warm during your winter runs is to run in an indoor track or on a treadmill.