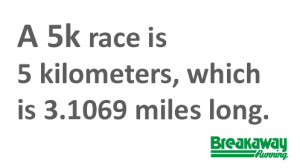 A 5k race is five kilometers, which is 3.1069 miles or 5000 meters (5000 meters is most commonly used when referring to indoor and outdoor track or cross-country events).
Why is the 5k the most popular distance?
This race has grown to be the most popular road running distances amongst fitness enthusiasts of all ages and fitness levels because it typically requires less time and effort to train for as opposed to longer distances, such as the 10k, half marathon, marathon and ultra distances (i.e. 25k, 50k, 100k). This is also a common distance goal for those looking to lose weight and get in shape.
Do I have to run the entire time?
No, you don't have to run the entire time. In fact, you can walk, jog, wog (walking and jogging) or go whatever speed you are able to and prefer. Just check with your doctor before beginning any new fitness program to establish which training plan is best for you.
What are the best 5k's in Memphis?
There are so many 5k races happening nearly every weekend in Memphis. In fact, you will most likely find at least 2-3 a weekend during the spring, summer and early fall. A lot of these races are used as a fundraiser for non-profits and charity's.
Here are the most popular 5k's in Memphis, according to our Breakaway Running customers, friends and family:
Of course, we are a bit biased about the Breakaway Bardog 5k race. The name says it all with the best running store and bar working together – but to add to its delights…. it has an awesome t-shirt every year, it benefits St. Jude, it is known to have a fast course, meaning runners typically have faster times and PR's. The post race party is hands down a good time with high dollar food, beverages, bands, entertainment, and more.
Let us know what your favorite 5k is in the comments section!