There are ONLY two weekends left to get your holiday shopping in. Don't panic! We're here to help you because we know how hard it can be to shop for your loved ones. Like, what do you get a runner for Christmas? There are tons of affordable items you can get for runners. Use our guide below to help you. We categorized the items by most popular and most affordable.
Top 5 Most Popular Gifts for Runners
We surveyed our customers at both our Breakaway Running store's on what they or their partners wanted most for Christmas and this is what they said….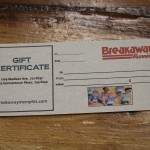 1. Breakaway Running Gift Card – the best gift is the gift that keeps on giving. And if you aren't sure of what to get  someone – then let them do all the thinking – with their new gift card.  A gift card is also a great option if you are wanting to get someone a new pair of running shoes or running apparel and you don't know their size or what type works best for them. No worries – we can help with that!  You can purchase a gift card for any dollar amount. Even if you don't live here in Memphis or Germantown, you can call us and we can figure out a way to get the gift card to you or your loved one.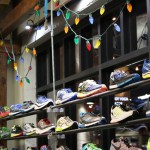 2. Running Shoes – What runner wouldn't love a new pair of running shoes? It's the most important component to their running. Seriously, "you can't buy happiness, but you can buy running shoes… and that's pretty dang close!" Running shoes typically last around 350-400 miles (depending on the shoe, the runner and the terrain used on the runs). As we mentioned before, if you are unsure of what running shoe works best for the person you are shopping for, then we suggest getting a gift card towards the average amount of running shoes (suggested: $120). New running shoes range from $100 up to $170.
Holiday Shopping Tip: MRTC members receive 10% off their purchase all year long.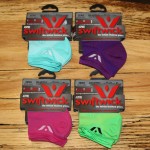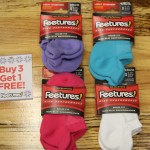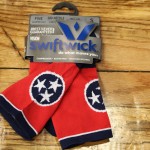 3. Socks – You really can never have TOO many socks. After all, many runners suffer from Lost Sock Syndrome (LSS). If this is you or you know someone who is impacted by LSS then we suggest you take advantage of our Buy 3 – Get 1 Free sale on Swiftwick and Feetures socks. Socks also make a great stocking stuffer. Prices for running socks range from $10 – $17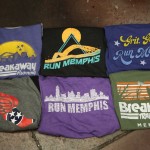 4. Breakaway Shirts – True story! Breakaway shirts are hot in demand all year long and they sell out as fast as we announce them. Our most popular t-shirts have been Memphis-themed running shirts, such as the "Run the 901", "Grit. Grind. Run Memphis", "Run Memphis", and the "Run or Die" sugar skull designs. Breakaway shirts have been known to make its appearance across the globe – that's how cool they are! Breakaway t-shirts range from $10 – $35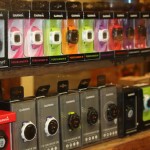 5. Running Watches – Tick…Tock…Tick…Tock! Yup, smart running watches are on the top of many fitness enthusiasts wish list this year. The most popular running watches requested are the Garmin 235, 230, and 15. All of these watches help track your time, distance, calories burned, pace, activity tracker, and more. The Garmin 235 has a wrist-based heart rate, which has a lot of runners excited. Ladies… no more chest heart rate strap!
5 Most Affordable Gifts For Runners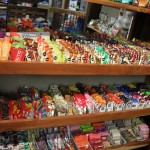 1. Nutrition –  Looking for something small and affordable for the runner in your life? Nutrition items used for fueling athletes, such as Gu, Nuun, Sports Beans, Honey Stinger, Bearded Brothers, Huma, and Picky Bar make perfect stocking stuffers for runners.  You could even snag some of the flavored nutrition for yourself for a delicious holiday dessert topper. Salted caramel? Maple bacon? Yes, please! Prices range from $1 to $3.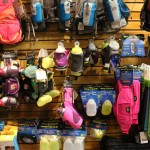 2. Hydration Storage – This is definitely one of our most popular categories (and affordable) at Breakaway. Plus, there are many types of waterbottle's to choose from (even some with Breakaway on the bottle). We are most excited about the new Amphipod Flash Handheld Thermal. It is an insulated water bottle that has a strobe light built into the bottle's sleeve. This is a great combination of being seen and hydrated on your night runs.  Prices of water bottles range from $7 to $35.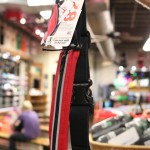 3. Storage Belts – We offer the SpiBelt, FlipBelt and other storage belts from Nathan and Amphipod at Breakaway Running. All are great holiday gifts for walkers, runners or bikers who likes to carry their keys, phone (yes, it fits the iPhone 6+), identification, nutrition, or other small items needed during a workout. Storage space varies for each product. We can help you figure out which one is best for you and your comfort level. Prices range from $20-$30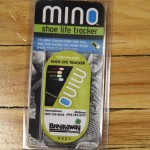 4. Mino Tracker – This is a new shoe life tracker only offered at Breakaway Running. The Mino Tracker is an insert that is placed in the running shoe and uses compression technology to display when your running shoes have calibrated 400 miles – all this meaning that it's time for some new running shoes! Price is $10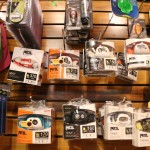 5. Visibility/Reflective Gear – Another affordable gift idea for runners is headlamps, strobe lights and reflective gear. Our most affordable option is the Nathan strobe light, which has two modes – a constant light and a strobe light. It is light-weight and clips on to your shirt, hat, or the waist-band of your shorts or pants. Price ranges from $10 to $175
Other popular and affordable holiday gift ideas for runners: 
RunGluv – $12
Runner-themed Holiday Ornaments – $5
Running stickers and decals – $1.50
Yurbuds Headphones – Ranges from $20-$100
Breakaway Running Koozies – $3
Sports Bras – Ranges from $30-$56
Running hats – Ranges from $20-$25
Running gloves – Ranges from $15-$35
Compression Apparel – Ranges from $40 – $110
Recovery Items – Ranges from $5 – $40