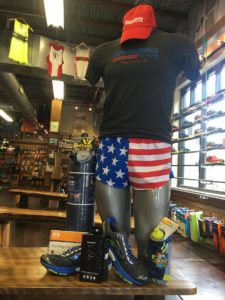 Father's Day is right around the corner – on Sunday, June 19, 2016 – and the number one question we have been asked lately is "what should I get my dad for Father's day?" Fear not, your Breakaway crew is here to help you pick out the best gift for Dad! Below is a list of the top 10 Father's Day gift items our runner Dad's have put on their wish list. Feel free to use this gift guide for later special events and occasions.
Top 10 Running Gifts For Dad 
1. Gift Card – The best gift for dad this Father's day is a gift card so that he doesn't have to return the wrong shirt size… or shoe size… or something that he already has. We highly recommend a Breakaway Running gift card, plus with this gift, he is guaranteed to get what he wants. You can purchase a Breakaway Running gift card at either Breakaway Running store. If you are out of town and buying for someone locally, then you can make your purchase over the phone and we can mail the gift card to the recipient or have it available for pickup in our store.
2. Running Shoes – Bring Dad in for a custom running shoe fitting with our experts. That way we can help him get in the best running shoe for him. This way The best thing about our loyal Dad's is that if he's purchased with us before, then most likely we'll be able to look up his size and style purchased in the past. Not sure on size, color, type – that's where the #1 gift recommendation for Dad's comes in handy. Custom fitting is complimentary with your purchase of running shoes. Cost varies for $100 – $170. 
3. Sports Watch – Smart watches with activity trackers, GPS, blue tooth notifications, and alerts are all the rage these days! Many of the watches we carry offer these additional features, including custom pace settings, heart-rate monitoring, and virtual coach assistance to support your training. Start a competition with Dad and the family to see who gets the most steps in during the week. Not sure which one is best for Dad? Bring him in to see which features he prefers. Cost varies from $40 – $500
4. Race Entry – Chances are Dad really just wants to spend time with you.  Arguably, the best Father's Day gift is time spent together. Create a memorable experience by getting him an entry into one of the many 5k's coming up in Memphis ranging from $20-$35. Plus, your race entry could include a t-shirt, post-race party, and other race goodies. Register for the Breakaway Bardog 5k, which includes the award-winning Monroe Avenue Street Festival after-party benefiting St. Jude Children's Research Hospital.
5. Under $10 Gifts – We're all on a budget here. Some great running gift ideas for Dad that are under $10 include running decals and stickers, running gel, chapstick, night time safety lights, nutrition, Pint Glass, running log book, koozies, and Body Glide.
6. Running Shirts – One of the top selling items at Breakaway is our custom running shirts. We have a wide selection of Memphis/Running-themed t-shirts. Warning: the running shirts do sell out fast once we share them online. Check out some of our latest shirts on our Breakaway Running Facebook page or come in and check them out. Cost varies from $20 to $40
7. Socks – Believe it or not, Dad loves his socks (in many colors) and he doesn't want to get blisters when he runs or mows the lawn. Don't worry, Dad! Breakaway carries moisture-wicking socks from Swiftwick, Feetures, Balega, and CEP. Cost varies from $9 to $60
8. Water Bottles – Father's Day in Memphis usually also comes with a lot of heat. Keep Dad hydrated with a water bottle. The most asked for hydration storage at Breakaway is hand-held water bottles with additional space to store personal belongings, such as iPhone's, ID's, cash, and keys. If Dad isn't a fan of holding a water bottle, then we do have hydration belts. 
9. Hats & Visors – We've got dad covered with a variety of running hats and visors. Cost varies from $20-$30
10. Running Shorts – Who wears short shorts… well hopefully not Dad. If this is the case get him some new running shorts that'll last him for the next 20 years. We just got in a lot of American-themed shorts just in time for Fourth of July. P.S. If short shorts are his thing, then we have those, too! Cost varies from $30-$60
Still need Father's Day gift ideas? Visit either one of our Breakaway Running stores and our crew will be happy to help you pick out stuff for Dad (and yourself). Happy Father's Day!