There are two main safety components for running in the dark.
1. You want to be seen
2. You want to be able to see
Here are nine safety tips for running at night and in the dark.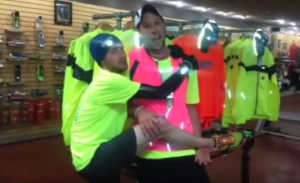 1. Reflective gear, also known as high-visibility clothing, increases your chances of being seen when a light source such as a car headlight or another runner with a headlamp approaches. The reflective material "glows" and reflects back to the driver or runner when the light source hits your reflective running apparel.
2. Blinking lights are another great source of light to increase visibility and catch the attention of others during your run. We recommend flashing lights on the front and back of your body – with more emphasis on the front since you should be facing traffic.
3. Running against traffic is a key component for being able to see what is coming towards you. This is also important when running during the daytime.
4. Bright clothing and neon colors, such as yellow, green, orange, pink and white, are great colors to wear to stand out when walking, running and biking in the dark.
5. Well-lit running routes are a great way to increase visibility during your run. If you can, we recommend sticking to roads and paths with street lights.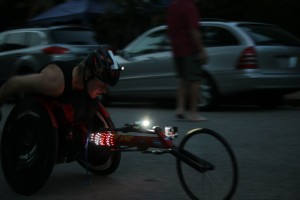 6. Headlamps or a hand-held flashlight not only provide a source of light for others to see you, but they also allow you to see upcoming debris and other obstacles along your running path.
7. Running groups or running with a buddy has its many benefits, such as accountability, motivation and improved performance. It's also beneficial for safety purposes in the case of an emergency or a life-threatening situation.
8. Remove the headphones. You are already impairing one sense by reducing your ability to see at night. When you increase distractions during your run, such as music, it becomes more difficult to hear cars or cyclists and other threatening situations, such as an attacker or a wild animal.
9. Be aware of what lies ahead of you and your surroundings. Gumballs, rocks, fallen debris, broken concrete and tree stumps are all common causes of night time injuries. That is why it is important to run in well-lit areas and to bring lighting aid on your runs.